Harrisburg Happenings
A report on legislative actions from the Session Week of March 25, 2019

Dear Friend,
I am pleased to send you my Session Wrap Up e-newsletter. This e-newsletter features events and legislative activities from the Session Week of March 25, 2019.
If you find this e-newsletter useful, I invite you to visit my website www.senatorscotthutchinson.com for more information about your state government. If you do not wish to receive these e-newsletters, please click the "unsubscribe" button at the bottom of the page. If you would like to contact my office, please go to my website and click the "contact" button. Please do not "reply" directly to this e-mail.
Sincerely,
Scott

Clarion County Native Recommended for Promotion to Brigadier General
I am pleased to report that the Senate Veterans Affairs & Emergency Preparedness Committee recommended that a Clarion County native be promoted to Brigadier General in the Pennsylvania Army National Guard on Tuesday
Colonel Jeffrey S. Heasley, a graduate of North Clarion High School and Clarion University, was unanimously approved by the committee for promotion and his nomination was sent to the full Senate for final confirmation.
Promotions to the general officer ranks of the military, and especially within our Pennsylvania National Guard, are rare and important occasions. The fact that Colonel Heasley is now on the fast track for this promotion is an extremely special occasion indeed.
"Colonel Heasley is a proven leader and an exceptional officer who possesses unlimited potential to serve and excel in positions of greater authority," wrote State Adjutant General (Major General) Anthony Carrelli in a letter of support. "I strongly recommend Colonel Heasley for a Certificate of Eligibility to Brigadier General."
Colonel Heasley received his commission through the ROTC program at Clarion University. He served in a number of company and field grade positions prior to his current assignment as Chief of Staff, Headquarters Support Company, Headquarters, 28th Infantry Division. He is the recipient of numerous military awards and citations including the Legion of Merit, the Bronze Star, Meritorious Service Medal and Army Commendation Medal.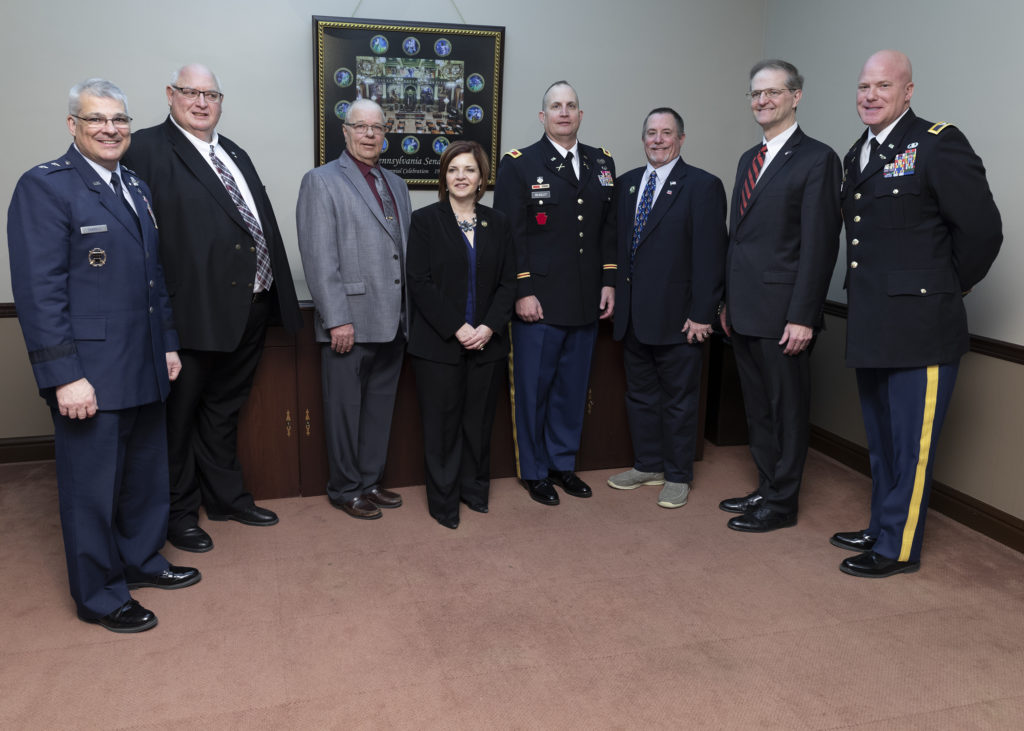 Pictured (left-to-right) State Adjutant General (Major General) Anthony J. Carrelli, Clarion County Commissioners Ed Heasley and Ted Tharan, Representative Donna Oberlander, Colonel Jeffrey Heasley, Rick Rathfon (Colonel Heasley's former North Clarion High School basketball coach), Senator Scott Hutchinson and Colonel Edwards Little, Jr.
Committee Advances Measure to Support Hi-Tech Businesses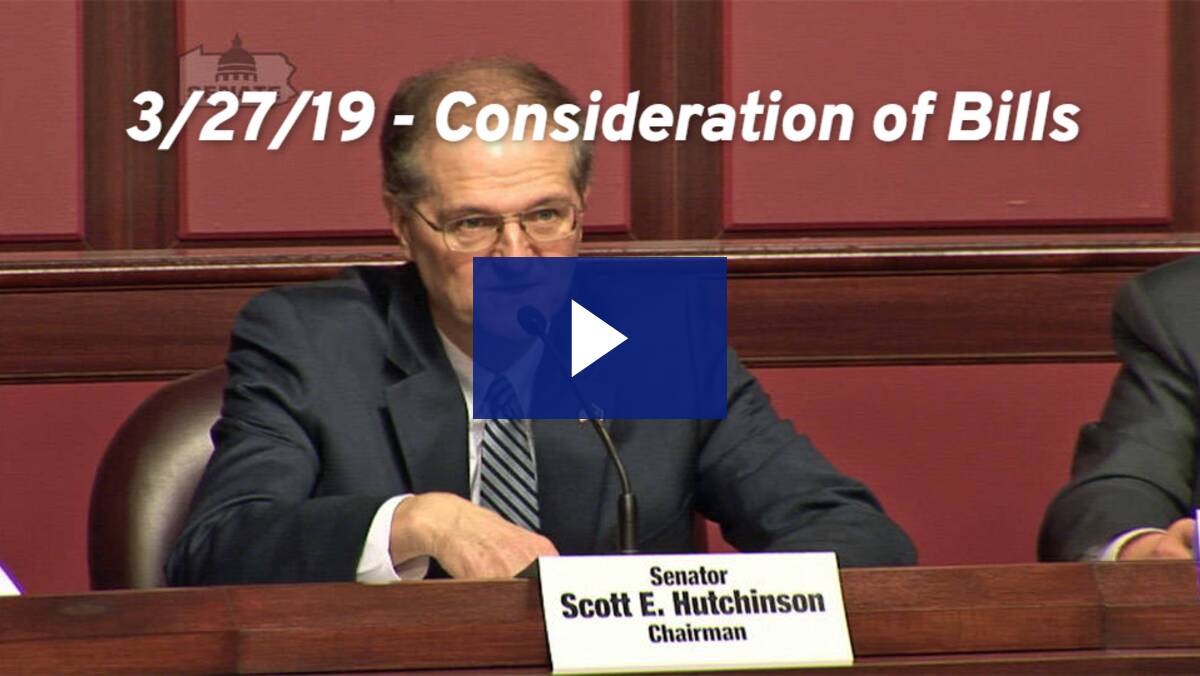 The Senate Finance Committee, which I chair, approved a measure I introduced that will help develop and support high-tech businesses in Pennsylvania. Senate Bill 471 establishes a sales and use tax exemption for certain equipment purchased by data centers and their tenants. The proposal is similar to sales tax exemptions for other industries in the state such as dairying, farming, manufacturing, and mining.
This tax exemption will provide an additional incentive for companies to locate their data centers in Pennsylvania, rather than surrounding states. We need only look at the more than $100 million of capital that Iron Mountain invested in its Boyers (Butler County) facility to see the benefits, such as good-paying jobs, that these businesses provide.
A data center sales tax exemption was enacted in 2016 with an annual cap of $5 million. I proposes to replace the existing capped refund program to reduce the cost of the program and ensure even larger investments in Pennsylvania. My bill will help create jobs and new sustainable revenue. It promotes economic growth; fosters Pennsylvania's workforce development through the creation of high-paying, high-tech jobs in computer data centers and related industries.
"Companies looking at data center outsourcing as an option have many factors to consider, including location. Part of data center location decision is weighing the cost of computer equipment including sales taxes. Currently, more than 20 states offer sales tax exemptions for data center investments. This legislation puts Pennsylvania on par with those states," said Mark Kidd, executive vice president and general manager, Iron Mountain Data Centers, which operates data centers in nine states and four countries.
The Finance Committee also approved Senate Bill 83, a measure sponsored by Senator Scott Martin that exempts volunteer fire companies from paying sales tax on food and beverages sold for fundraising efforts.
Senate Approves Bill to Prevent Child Heatstroke Deaths in Vehicles
The Senate approved legislation on Monday that provides immunity to individuals who rescue children who have been left unattended in hot cars.
Senate Bill 49 extends "Good Samaritan" civil liability to a person who — in an effort to save a child — breaks a window or forcibly enters a parked, locked vehicle. The bill is named in memory of the 49 children who died last year from vehicular heatstroke. The law would bring Pennsylvania in line with 19 other states that give immunity to bystanders who help children locked in hot vehicles.
The Senate approved five other bills this week.
House Bill 18 authorizes the release of Project 70 restrictions on lands owned by the Borough of Topton, Berks County, in exchange for the imposition of the restrictions on other lands to be acquired by the borough. The bill also provides for land conveyances in Chester, Lehigh and Monroe counties. The bill returns to the House of Representatives for concurrence on Senate amendments.
Senate Bill 86 amends the Newborn Protection Act to add urgent care centers to the list of "safe havens" where a parent may surrender a newborn.
Senate Bill 115 addresses CPR instruction in grades 9-12.
Senate Bill 127 reauthorizes Pennsylvania's 911 Law, which is set to expire on June 30, 2019.
Senate Bill 298 transfers "Stolen Valor" fines to the Pennsylvania Veterans' Trust Fund.
Committee Roundup
Appropriations
The Senate Appropriations Committee approved four bills on Monday.
Senate Bill 115 integrates CPR instruction into existing curriculum for grades 9-12.
Senate Bill 127 reauthorizes Pennsylvania's 911 Law.
Senate Bill 298 transfers "Stolen Valor" fines to the Pennsylvania Veterans' Trust Fund.
Senate Bill 372 updates the state History Code.
Consumer Protection & Professional Licensure
The Senate Consumer Protection & Professional Licensure Committee approved three bills on Wednesday.
Senate Bill 25 modernizes the Professional Nursing Law for Advanced Practice Registered Nurses.
Senate Bill 112 limits prescriptions for a controlled substance containing an opioid to seven days unless there is a medical emergency that puts the patients' health or safety at risk.
Senate Bill 217 removes Philadelphia's exemption from the Assessors Certification Act of 1992.
Judiciary
The Senate Judiciary Committee approved nine bills on Wednesday.
Senate Bill 123 limits parole re-application for sexually violent offenders.
Senate Bill 149 amends the state Constitution to create a crime victims' "Bill of Rights." Since the measure is a Constitutional amendment it must be approved by the Senate and House during two sessions before it can go to the voters. It was approved during the 2017-18 Legislative Session as Senate Bill 1011.
Senate Bill 337 establishes sextortion as a specific criminal offense with consequences comparable to other sexual offenses.
Senate Bill 396 prohibits the sale of electronic nicotine delivery systems and alternative nicotine products to minors.
Senate Bill 399 provides for a comprehensive bill of rights for survivors of sexual assault.
Senate Bill 425 amends Pennsylvania's Crime Victims Act to allow victims to attend the entirety of criminal trials.
Senate Bill 431 shields rape victims from irrelevant cross examination.
Senate Bill 469 addresses testimony by those with intellectual disabilities or autism.
Senate Bill 479 expands the Tender Years Exception for out-of-court statements to include additional serious sexual offenses.
Local Government
The Senate Local Government Committee approved five bills on Tuesday.
Senate Bill 110 amends the Home Rule Law.
House Bill 264 adds fiscal procedures for the collection of monies by municipal authorities.
House Bill 275 changes the name of the "Early Intervention Program" under the Municipalities Financial Recovery Act to the "Strategic Management Planning Program."
Senate Bill 316 allows newly elected Second Class Township Supervisors to attend conferences, institutes, schools and conventions prior to officially taking office.
Senate Bill 317 amends the Second Class Township Code regarding mandatory annual budget requirements.
Transportation
The Senate Transportation Committee approved four bills on Wednesday.
Senate Bill 109 requires passengers of a vehicle to render aid to anyone injured in an accident.
Senate Bill 338 increases the allowable width for farm equipment on roads.
Senate Bill 397 designates the interchange of the Mon-Fayette Expressway, Pennsylvania Route 43 and U.S. Route 119 in Fayette County as the Senator Richard A. Kasunic Interchange.
Senate Bill 441 designates the State Route 2087 bridge over the East Branch Codorus Creek in York County as the Sgt. Christopher M. Wrinkle and Tosca Memorial Bridge.
Urban Affairs & Housing
The Senate Urban Affairs & Housing Committee approved three bills on Wednesday.
Senate Bill 30 creates a state housing tax credit.
Senate Bill 174 provides for the tax sale of abandoned properties.
Senate Bill 309 creates First-time Homebuyers Savings Accounts.