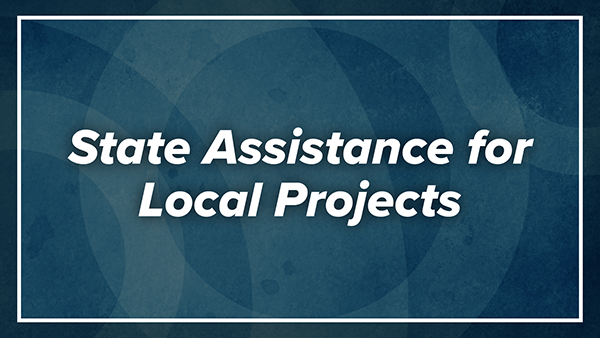 HARRISBURG – Sen. Scott Hutchinson (R-21) and Rep. Donna Oberlander (R-63) announced more than $2.5 million in grants have been awarded by the Commonwealth Financing Authority (CFA) for various purposes in Clarion County.
"It is great to hear that these very worthwhile local projects will receive a boost from state funding," said Hutchinson. "These investments will help keep Clarion County a great place to live and visit."
"There were a large number of grant applications, many of which were very worthy of funding," said Oberlander. "I'm pleased that the projects that were selected will have a direct impact on our local communities. I look forward to working with those that weren't funded to try again in future rounds."
The largest of the awards – a $750,000 grant – will be used by New Bethlehem Borough for its Penn Street Bridge replacement project. These funds were provided through the Multimodal Transportation Fund, which provides grants to encourage economic development and ensure that a safe and reliable system of transportation is available to the residents of the commonwealth.
Also provided through the multimodal fund is a $230,888 grant to Perry Township for its Lime Plant Road resurfacing project.
The remainder of the awards come from Local Share Account (LSA) funding that was created by the PA Race Horse Development and Gaming Act (Act 71 of 2004). The act provides for the distribution of gaming revenues through the CFA to support projects in the public interest within Pennsylvania.
The Clarion Redevelopment Authority received the largest of the LSA grants – $400,000 – to assist the Clarion Blueprint Community in making improvements to Clarion Second Avenue Park, with the work to include constructions of two basketball courts, two tennis/pickleball courts and a retaining wall at the park.
The other grants include:
$268,100 for Clarion Hospital to purchase two emergency vehicles – a squad unit and an ambulance – that will allow a paramedic to supplement coverage by responding to scenes and calls that require Advance Life Support;
$258,800 for Knox Township to purchase a Caterpillar Grader to replace the road department's current vehicle, which was made in 1952, to ensure a properly operating vehicle is available for road maintenance throughout the township;
$198,425 for Hawthorn Borough to purchase a new backhoe and a new truck with a plow, dump bed and tailgate spreader;
$195,260 for Redbank Township to purchase a new plow truck with spreader, replacing the township's worn-out plow and ash truck, truck to provide safe and proper winter maintenance to township roads;
$107,448 for Foxburg Area Water and Sewer Authority to install an emergency generator at its Foxburg Borough water treatment plant, which provides water to customers in Foxburg Borough and Richland Township; and
$100,000 for Foxburg Borough, on behalf of the Allegheny River Trail, to construct a parking lot and fence at the north end of a planned bike trail and park within the borough.
CONTACT: Justin Leventry