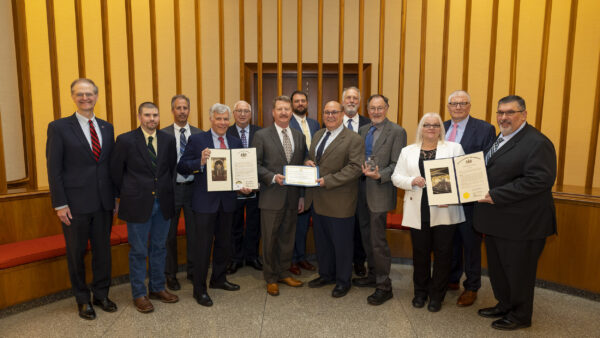 HARRISBURG – The Southwest Butler Stormwater Planning Commission has been awarded a 2023 Governor's Award for Local Government Excellence, announced Sens. Scott Hutchinson (R-21) and Elder Vogel, Jr. (R-47), and Reps. Stephenie Scialabba (R-12) and Aaron Bernstine (R-8).
"Flooding threats are nothing new for the Butler County communities located along the Connoquenessing Creek and its tributaries, but for individual municipalities, finding solutions to prevent or limit stormwater-caused damage has proven difficult," Hutchinson said. "In 2019, following more significant flooding events in the area, the Butler County commissioners called a meeting of all municipalities to encourage municipalities to work together to address regional stormwater issues."
"The efforts of the Southwest Butler Stormwater Planning Commission to develop a plan to mitigate flooding is truly worthy of recognition," said Hutchinson of the Innovative Planning and Sound Land Use Practices award given to the commission. "Their work will soon produce tangible benefits for several municipalities throughout southeast Butler County."
"I offer my congratulations to the Southwest Butler Stormwater Planning Commission for their ability to work together to help tackle the stormwater issues that have been affecting areas of Butler County," Vogel said. "The discoveries made through their stormwater study is no small feat and the identified projects will greatly help propel these areas forward and better prepare for the future."
"I had the privilege of attending a Stormwater Planning Group meeting," said Scialabba. "What I witnessed between these officials was nothing short of remarkable. Their collaboration, dialogue and collegiality are inspiring and have served to accomplish so much for the area. I applaud and encourage them in all their efforts."
"We have seen time and again the difficulties stormwater management presents for our municipalities," Bernstine said. "The intergovernmental cooperation these communities have exhibited to address stormwater issues deserves this type of acknowledgment."
The planning commission is made up of 10 municipalities – Adams, Cranberry, Forward, Jackson, Lancaster and Penn townships, as well as Evans City, Harmony, Seven Fields, and Zelienople – that have been meeting regularly to discuss stormwater and what they could do to mitigate future flooding events. The 10 municipalities, along with Butler County, paid for a stormwater study of the region and identified priority projects in both areas of regulations and future capital projects. Employing a strategic inter-municipal approach, the group has approved the recommendations and begun a process to amend local regulations in each municipality to pursue projects that benefit the region.
The Governor's Awards for Local Government Excellence recognize local officials for their successes in undertaking innovative initiatives to improve the quality of life in their communities. The Governor's Center for Local Government Services, within the Pennsylvania Department of Community and Economic Development, partners with the multiple local government organizations to sponsor the annual awards.
CONTACT: Justin Leventry (Sen. Hutchinson)
Abby E. Chiumento (Sen. Vogel)
Nate Temple (Rep. Scialabba)
Rick Leiner (Rep. Bernstine)